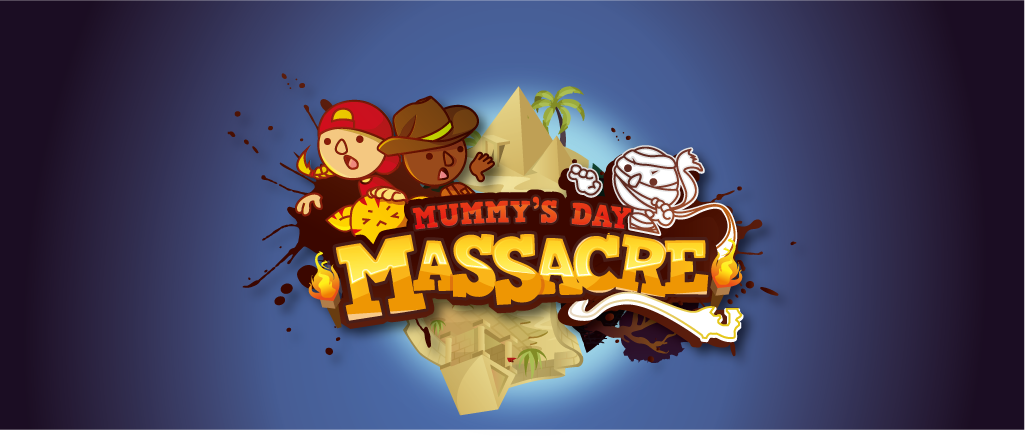 Mummy's Day Massacre
A downloadable game for Windows
Scroll to the bottom to find the download link
*THIS GAME IS BEING DEVELOPED INTO A FULL GAME*
WE ARE ON KICKSTARTER! Support us here
Follow development, get information on new versions and follow us here: https://mummysdaymassacre.wordpress.com/

and here on facebook:

https://www.facebook.com/mummysdaymassacre/

Synopsis:

2-4 bumbling archaeologists have stumbled into the wrong tomb and angered its sleeping inhabitants. It's been a long 4000 years and Mummy's cranky. Worse yet, it's Mummys Day and nobody thought to bring a Mummys Day Card!
Gameplay Instructions:
Interact with the sarcophagi to loot them for coins. Use the coloured switches on the ground to open/close doors. Raid the tomb and make it out alive. Trap your friends with the unstoppable mummy to get away with your plunder. Whoever makes it out with the most in two minutes is the winner!
Controls
Keyboard
Movement - Directional Keys
Character Select - A
Interact - Space
Controller
Movement - Analog Stick
Character Select/Interact - A

Install instructions
Simple Install Instructions
Unzip and run the .exe!
Detailed Install Instructions
Right click the downloaded .zip file, click 'Extract All...'
Find the extracted folder, open it, and run mdm.exe
Download